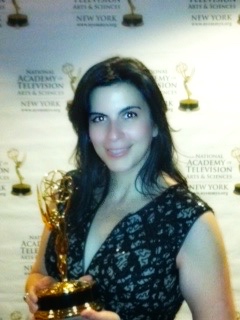 About
Angelina Vivolo Cicala
Three-time Emmy Award winning executive producer and writer,
Angelina Vivolo Cicala is also a recipient of the Edward R. Murrow Award for Investigative Reporting. A native New Yorker, Angelina launched her television career in the New York news market as a producer for WNBC-TV, WABC-TV and WCBS-TV.
During her news career, at WCBS-TV, she received seven Emmy nominations and worked in the special projects unit, producing everything from investigative to medical reports. At NBC's flagship station, WNBC-TV, News Channel 4, Angelina produced medical, consumer, investigative, entertainment and business news. At WABC-TV, "Eyewitness News," she headed up the "7 On Your Side" consumer news unit.
After working in the newsroom for New York's top news stations, Angelina entered the world of media production entrepreneurship. She co-founded and served as executive producer of Daily HealthFeed, a breaking medical news feed service which distributed content to over forty television stations across the country including WPIX News in New York.
Presently, Angelina is the principal of AVC Productions, LLC, a full-service production company. She has created, produced and written several television shows including the Emmy Award winning series, "Best Places to Live." She also created, wrote, produced, and directed "On The White Carpet," a wedding series for NBC Nonstop Network. In addition, she co-created, produced and wrote the Emmy nominated series, "Say I Do, NYC," which aired on NYC TV.
AVC's other television projects include co-creating, writing and producing the PBS series, "Faces of Philanthropy" and the Emmy Award winning children's music series, "Alex & the Kaleidoscope."
Angelina is a summa cum laude graduate of Hunter College and is a member of Phi Beta Kappa. She holds a Master's degree in Media Studies from The New School for Social Research. As well, Angelina received a scholarship from the University of Pennsylvania to study Art History and Italian at the University of Florence in Italy.