Our Mission
A

s

W

omen in

T

elevision, we know that much like we need to change lenses to capture the perfect shot, we also need to change the lens from time to time to create a different narrative for our life's next chapter. TellHerVision empowers and helps female television industry professionals change the lens to create their own unique next shot. Whether it's navigating the career labyrinth at a television network, getting a sizzle reel into the right hands, or returning to work after some time off to raise a child, real-life experiences and aspirations deserve real support and community.
Our Distinct Synergistic Programs
The Ignition of TellHerVision
Founder, Three-time Emmy Award Winning Executive Producer & Writer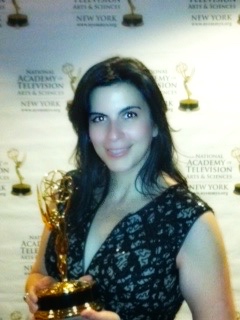 Founder, Angelina Vivolo Cicala
"I'm a three-time Emmy Award-winning Executive Producer and principal of AVC Productions, LLC. I've worked at WNBC TV, WABC TV, WCBS TV and am the founder of two media production companies, Daily HealthFeed and AVC Productions, LLC.
My Brooklyn born and bred grit is a palpable piece of my DNA. I shoot for the stars, ALWAYS. I believe in the power of passion and perseverance and above all, pursuing both with kindness and integrity.
I founded TellHerVision to change the way women in television do business as usual. We need authentic, cultural and tangible industry transformation."
Game-changing transformation requires action.
We need to be the change that we seek.